Jon Hendricks and Annie Ross
The Reggatabar, Cambridge, MA
January 7th, 1999
Jim Bazin

Honestly, Lynda (my wife) and I didn't really expect much regarding the show. It was quite enough for us to just be in the same room with two people that have given us a disproportionate amount of pleasure over the years through their music. Jon and Annie have always been, and remain, two favorite music people in our lives.
But now is much, much later than the 30-40 years ago when they did most of their best recordings. I was lucky enough to attend a Basin Street East show where Jon-Dave-Yolanda opened for Ella. The Jazz Messengers (w/ Art Blakey, Cedar Walton, Jymie Merrit, Curtis Fuller, Wayne Shorter, Freddie Hubbard) opened for Jon & Gang. So, I still had those memories and didn't expect anything on that order.
We arrive 15 minutes before the show ... our normal arrival time to the Regattabar for the 30-40 jazz shows a year we attend there. We were surprised to find the house FULL, unusual for most performances (especially on a Thursday night) and even more unusual for 15 minutes before show time. It felt great to see that so many people remembered them and came to honor them and enjoy their music.
Well, we were both totally pleased and enjoyed the entire two sets that we sat through. Granted, most of the music took an "easier" approach than the rapid-fire staccato work they were well-known for way-back-when, but it was far from pablum. We grinned ear-to-ear for two hours, including during the intermission. It was a WONDERFUL show with remarkable performances by both Jon and Annie. They've both "still got it" and it doesn't look like anyone is going to take it away anytime soon. In fact, if they continue to work together, I believe they will improve even more. They bring out the best in each other.
Familiar tunes from the LHR days included "Charleston Alley", "Midnight Indigo", "Come On Home", "Home Cookin'", "One O'Clock Jump", "Stop and Goes Blues", several from the Basie songbook, and some of their (individual) more recent stuff. Other songs included "Down for Double", "Tickle Toe", "Fiesta in Blue", "Goin' to Chicago", and a new vocalese partially written by Jon for Miles Davis' "Bye Bye Blackbird." He worked out lyrics for the Miles solo, but scatted the Coltrane one which he hasn't written a vocal for yet. Trane's solos are HARD.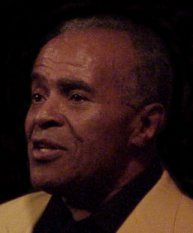 There were several absolute show stopping/stomping moments. I know you can imagine the house reaction when 77-year-old Jon Hendricks performed "Cloudburst" at normal speed without dropping a word or a bit. The man is truly gifted, and in wonderful voice. He maintains most of the wonderful vocal quality that has made him who he is on his recordings, and he looks terrific also! Still a handsome man.
Jon's humorous wit remains intact. It might even have improved with age. Still corny, but successful in making the audience laugh out loud and enjoy themselves with every quip. ("We've had several requests this evening ... but we're going to stay up here and continue anyway." -- and even a bit spicy -- "I'm afraid I'm gonna mess this next tune up with a capital F.") He still has the charisma that lets the audience feel immediately comfortable, puts them on his side, and makes them view Jon as a lovable old friend. What a wonderful man.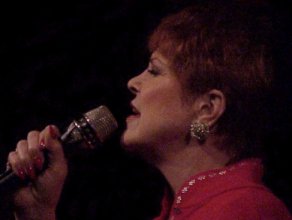 And Annie looked beautiful, with complimentary red hair and a trim figure. When she performed "Twisted" solo on stage, the audience cheered throughout and gave her a standing ovation at the end. She was equally well-received for her solo perfomance of "Music Is Forever," from her most recent album. I wish I had seen her back when, she is a wonderful and charismatic performer (Broadway quality) and must have been awesome in the '60s when she had her youth and original vocal range to work with.
They were backed by the "Jon Hendricks Quartet" which consists of Peter Mihelich on piano, Paul Gill on bass, Walter Bolden on drums, and Paul Meyers on guitar. Dave Lambert's parts were assigned to Paul Meyers, and it proved harmonically effective. They were quite good. All were young, with the exception of Bolden, who played drums with LHR 40 years ago in the Gildo Mahones Trio. A very nice touch to have him with them.
The Globe did a short (positive) writeup on the concert. One line used was "Aging has not diminished the affinity that made these singers so rhythmically and attitudinally compatible in the least."
Another was, "Hendricks & Ross give us the opportunity to applaud these sources (the original instrumental writers and performers) as well as their own inspired interpretations, and both earned every bit of the affection that was directed their way."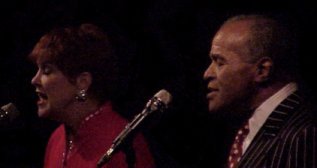 Text and Photographs by Jim Bazin
---
Return to the Jon Hendricks Page.
Return to the Vocalese Page.