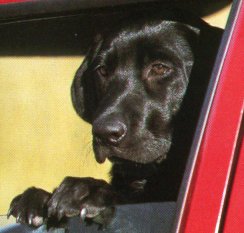 Lady Macbeth
Labrador Retriever
Canine Companion of Roland (trad) of Amber
19-point Critter Brigade Version

Description:
Height: 2' 6"
Hair: short and black, trace of grey under the chin
Weight: 45 pounds
Eyes: brown and mournful
Build: rugged and water-resistant

Powers:
Invulnerability to Conventional Weapons (4)
Regeneration (4)
Amber Stamina (2)
Shadow Path (2)
Danger Sense (2)
Able to Speak in Tongues and Voices (4)
Access to Roland's trumps (*) (1)


Trumps:
Roland's room in Castle Amber has a floor-level trump to Roland's home out in shadow. From there, there are floor-level trumps back to Roland's rooms in Amber, a cabin on a fast-time shadow and a couple of other locations on Roland's shadow.

Info:
Place of Residence: Roland's house
Disposition: friendly, level-headed, enthusiastic
Favorite Foods and Drinks: steaks, popcorn, tea, wine
Style/Taste in Clothing: chain link collar and nothing else
Favorite Retreat: the cross-shadow woods out behind Roland's place
Musical Preference: swing, be-bop, baroque


Background:
Roland "inherited" Lady when her former master was killed. She's been a regular companion of his ever since. As a result of their travels she's familiar with a number of Shadow Earth-type shadows, mostly places with good food or good music. More recently they've spent time in Amber, and she's learning the ropes of the Eternal City.

Lady is very level-headed. She doesn't think of herself as some sort of enchanted creature with all sorts of special powers. She sees herself as an otherwise normal intelligent dog who can talk. She'd tell that all dogs can scent trouble on the wind, and see glimpses of the neighboring shadows.
---
Return to Sol's Amber Stuff
Have comments, questions, pronunciations, flames, Amber stories?
Send e-mail to Sol Foster: colomon@ralf.org.