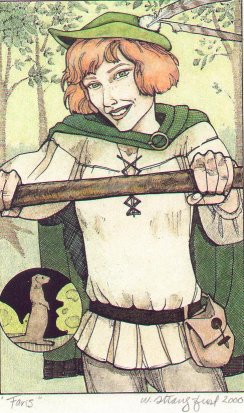 Faris
When the rivers run thicker with trouble
I'll be there at your side in the flood
While it's all I can do to keep myself
From taking revenge on your blood.
Daughter of Fiona and Fergus, student of Benedict. She was part of Bleys's strike force during Patternfall, and is now one of Julian's Rangers. She wonders if the wrongs Oberon did can be remedied without destroying Amber -- and still she is determined to protect it with all her might.
---
Description: Faris wears her strawberry blond hair short, and tends to cover it with a hat. Her green eyes twinkle and flash, not necessarily as appropriate. Trim and fit, she's about five foot three, an inch taller than her mother and slightly more curvy. Fiona's complexion is supplemented with a smattering of freckles and a wicked grin. She appears to be in her late twenties.
Her personal colors are green and black. Her symbol is a mongoose, intensely curious yet poised to strike.
Fiona's Trump of Faris: She leans against a black wall, wearing an elegant pale green dress. Her hair is a longer than normal, and those who have met her wonder if it ever actually looked that neat. At her side is a fencing foil. She seems to be laughing at some inner joke.
A Faris Trump Self-portrait: She stands on a rock just off the beach, facing into the stiff wind, arms wide to get maximum spray from the wave crashing around her. Though it wasn't her intent when making it, the stark style she used completely hides the differences between her and her mother. She's never quite been happy with the painting, but it works admirably as a trump.
---
...with tooth and jump and spring and bite...
---
History: Faris was born about fifty years before Patternfall, Amber time. After the murder of her father Fergus, the teenaged Faris started studying self-defense with Benedict. She eventually followed him to Tambudze and Avalon, becoming one of his officers while they cleaned up the mess left by Corwin's shadow.
That work done, she took her leave from Avalon, returning to set up a residence in Amber Town about twelve years before the Patternfall War. She was frequently away -- it is reputed she took a tour of the Golden Circle, and had at least one other house out in Shadow. Still, she seemed to be quite happy in Amber until Eric was crowned. He didn't waste any effort hiding his distrust of the redheads. Faris took the hint and left town. Some observers place her back in Avalon when the forces of the Black Road attacked. It is certain she showed up with Bleys's forces in the final battle of Patternfall.
In the aftermath, she once again opened up her house in Amber, though she spent most of her time out in shadow. About six months ago she joined Julian's Arden Rangers, and recently got her commission. When Jacob Dust attacked Amber, she was one of the defenders on the walls of the castle. She has been seen a number of times since then with Graeme and Illyanna, trying to organize the opposition to him.
Personality: While Faris keeps big chunks of her life private, she is outgoing and friendly. Quick to laugh, her sharp temper is carefully submerged most of the time time. She is too curious for her own good, and dangerously headstrong.
Her hobbies are crafts and music. Her workshop has produced a few outstanding stringed instruments, including her prized cello. It also likely produced the intricately carved wooden quarterstaff which is her weapon of choice. She also is a fair hand at making trump, and more than willing to work out barters for custom work.
---
Links:
Cello Concerto Writeup
Reference Links:
Mongooses
A bit of Kipling
A bit of Chuck Jones
A younger Faris in armor?
---
It's imperative
we be somewhat more truly demonstrative
in becoming provocative
Our parents neglect God, it's true.
All their world is askew.
They go about bickering and scheme of possessing things
-- as though they own us, too,
and own all that we do.


---
Credits: Faris's picture is Copyright 2000 by Wendi Strang-Frost, who drew and colored it. Used with permission. The openning quote is from Richard Thompson's "Genesis Hall"; the middle one is from Rudyard Kipling's The Jungle Book; the final from Kurt Elling's "These Clouds are Heavy, You Dig?"
As Sarah pointed out on the Amber list, Faris was named after the lead character from Caroline Stevermer's College of Magics, a book I highly recommend. The two characters really don't have much in common besides red hair and a quick tongue.
---
Return to Sol's Amber Stuff
Have comments, questions, pronunciations, flames, Amber stories?
Send e-mail to Sol Foster: colomon@ralf.org.